The Webmaster
Wow !!! Who says you can't teach an old dog new tricks. Thank you so much for your interest in my "Homemade Web site". If you've made it to this page I have to give you a "GOLD STAR" for your endurance. I set out so many years ago (yes years) to make this site. I was determined to do it myself and if your reading this I must have finally succeeded in reaching the "World Wide Web". What a journey !
I started off with Adobe Illustrator, Photoshop and Dreamweaver. How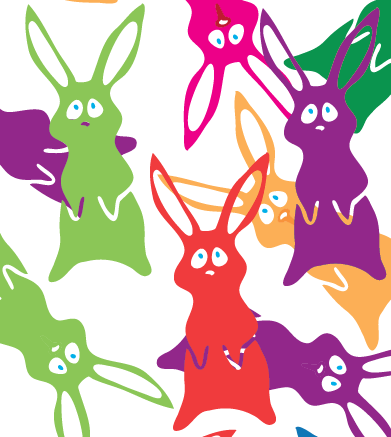 hard could it be! Well I couldn't seem to even open the programs. In frustration I went to Barnes and Nobles, spent a lot of money and came home with a stack of "for Idiots" books. You know, none of them tell you how to "open" the programs. When a "kid" would visit I would bring out the computer and say "show me". Well, either they were not interested or so fast I just never "got it". Finally I asked "Why can't I load a picture, why do none of the tools work" ???? Linsey, bless her heart, finally said well you have to click on this menu and then click on Place. OMG, that was such a landmark moment for me. Suddenly I could import a picture and the tools worked.
I was in a frenzy. Soooo much fun. I could draw pictures and enter them into Illustrator and manipulate them into all sorts of fantastical things. I could make my own clip art , design fabrics, manipulate photos. I was in heaven. I even had to increase my computer memory as I now have so much clip art. So now I'm "making eyes" at Photoshop ! I have a million photos. Mostly kittens and flowers if you haven't already guessed. Once again I can not make anything work !!!! All I want to do is cut a kitty out of a photo. Once again I am asking the kids. Please just show me. Have to thank Kelly for her efforts. She must have said something that finally clicked. I could "cut" things out at long last. A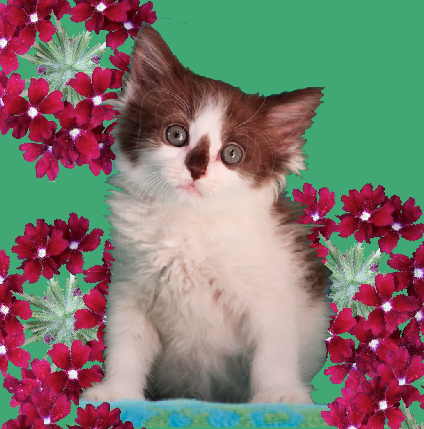 nd the frenzy began. I have been cutting out kitties and flowers with reckless abandon.
Two down and one to go!! Two pregnant cats and no web site ! The pressure is on. I have read and reread my idiot book on Dreamweaver to absolutely no avail. I simply do not speak the language. So a friend "Dr Shull" happened to mention that she was taking a web designing class. I was sooo excited. Sign me up !!!! So I walk into a room full of PCs. Ugh ! It took me so long to get used to the Mac and I have TOTALLY forgotten how to use a PC. So I missed half of the conversation just trying to remember to click on the right instead of on the left etc etc. Well the class was pretty basic and our handouts were in really huge print. One page of giant letters said HTML and another CSS. Things seemed to make sense for a little while and then as we old folk tend to do, I forgot everything !!!! So now the kittens have arrived and I am out of time!
So many things to figure out. I need a domain name and a host and have to create the pages. And everything has a user name and a password. So many user names. So many passwords. Of coarse when I sign up for a host I click on the "this month only get a big discount" button but the full price was charged to my credit card . Just try to find a person and get that straightened out.
So back to my idiot book - now quite dog eared . And suddenly a bolt of enlightenment. I made a page and then another and another and another and I made links to pages and links to "Etsy" sites and links from drawings and from photos. I'm a linking fool ! And now that, that is done you have to UPLOAD. I did manage to open up filzilla and the instructions say just drag and drop. Well what about all these file folders . I keep dropping but it just doesn't take it. So I offered Dr Shull lunch if she would show me where to drop my pages. So if you are reading this "Thank you Dr Shull" .
I did send a few of my pages to the kids. Too many flowers mom they say ! You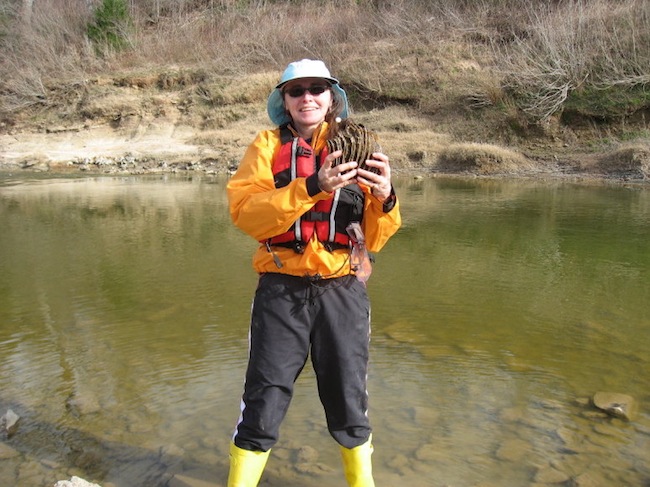 have to make it modern looking. It looks so 80's. Well I can't remember much about yesterday but I do remember the 80's. And, I grew all of these flowers and I cut them all out and they were so joyful in the garden. And, I made all this crazy clip art. So here it all is for better or for worse. So if things look a little nutty, well what can I say. It was a fun journey! So who is the raggedy looking person in the picture and why is she smiling. Well she is the "Webmaster" and she is smiling because she found a mammoth tooth on the Brazos River. Not as big and impressive as the ones Terry has found but you know I just didn't want to die without finding a mammoth tooth.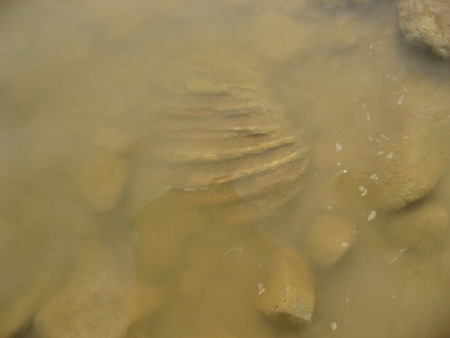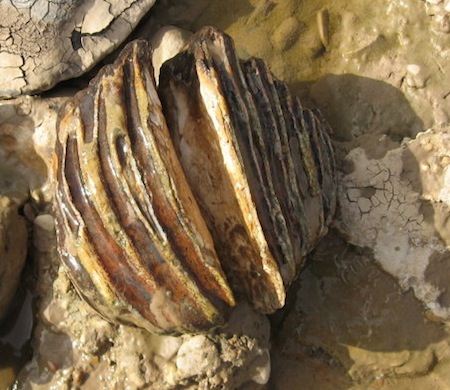 Well, I was feeling a little "giddy" at getting my site launched until I realized that I have to learn a whole NEW language to optimize it for the search engines. Whew - here we go again.
All graphics, photographs and text is original and copyrighted maxine stiles 2012